CES Black History Wax Museum (March 01, 2017) 9:00 a.m.-11:00 a.m.
CES Black H
istory Wax Museum
March 01, 2017
9:00 a.m.-11:00 a.m.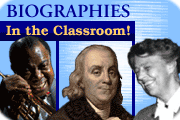 Central Elementary School "CUBS" will participate in this years' Black History Wax Museum. To prepare for this year's Wax Museum, students will select famous individuals on which they are to conduct research and write thorough biographies. They will utilize their technology skills to develop their biographies into presentations. Additionally, students will write short speeches about their famous individuals whom they will memorize and recite for their parents, teachers, and visitors. Furthermore, the students will dress as many prominent African Americans and share their accomplishments as students and visitors tour the assembled Black History Wax Museum on March 01, 2017. Sightings of historical figures such as Albert Einstein, Cleopatra and Mother Teresa, athletes including Jesse Owens and Jackie Robinson, and entertainment icons like Louis Armstrong and Chuck Berry will possibly be viewed at Central Elementary School on the above aforementioned date during the school-wide Black History Wax Museum occurrence. The annual event is the culmination of the K-5 literacy units centered on biographies.
Please clear your calendar to attend this awesome event!
"CES CUBS RELIVING HISTORY"